Hello and welcome back to Week 3 of the One Room Challenge!
We made progress this week and I'm ready to talk about the colors I am using in this guest bedroom.
Colors: Fabrics, Paint, and Wallpaper
As mentioned in my Week 1 post, I decided to dedicate my design to my mother-in-law Carmen, who is from Puerto Rico. One color we both like is red. I am using it on the walls and in the fabrics for window treatments and bedding. I also love the idea of using texture on the wall behind the headboard.
For thee window treatment fabrics, I wanted to use a source I haven't used in my projects before. This is a project where I can experiment, and the Spoonflower website always has something fun. Spoonflower is a Durham based company that prints any design on a wide selection of fabrics, as well as wallpaper. Prints are created by graphic designers and artists who upload them onto Spoonflower website. You can spend hours and hours browsing creative designs in any color and style imaginable. Most of the fabrics used by Spoonflower are suitable for clothing, and some can be used for home projects. So, there I was browsing for a pattern that would be something I would not normally choose and that would fit the parameters of Puerto Rico inspired and have red in it. An hour later, there it was!  A Hibiscus Waterfall designed by HipKidsDesigns! It is a perfect color, style and pattern repeat.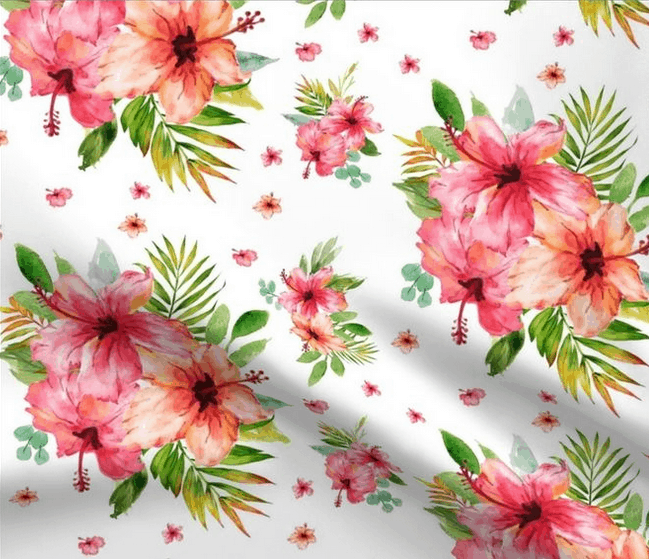 For the solid fabric, I choose silk again because it has a distinctive sheen and when crunched up it looks dimensional. I went on a quest to find red grass-cloth wallpaper for the wall behind the headboard. And another bingo! Red sisal wallpaper from York Wallcoverings.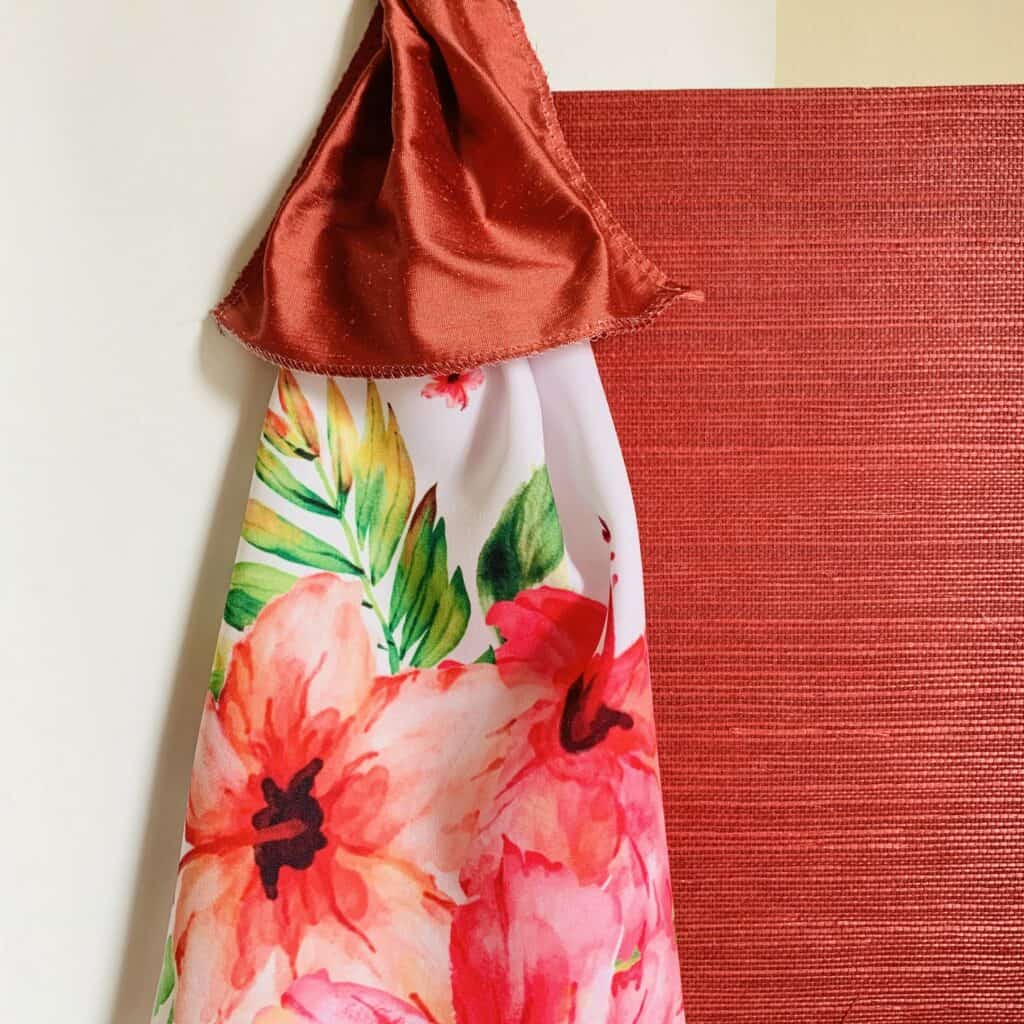 When we lived in our first house in 2006, I designed two pairs of drapery panels in green and orange silk for our family room . Those panels "moved" with us and now they are a great fit for our Mexican-style guest bedroom. I still like the design and the combination of fabrics. But this time, I decided to use patterned fabric for the curtain body and the top tabs and scrunches would be done in a solid. Yes, I have learned a new word– scrunches!  I used to call them "sleeves" 🙂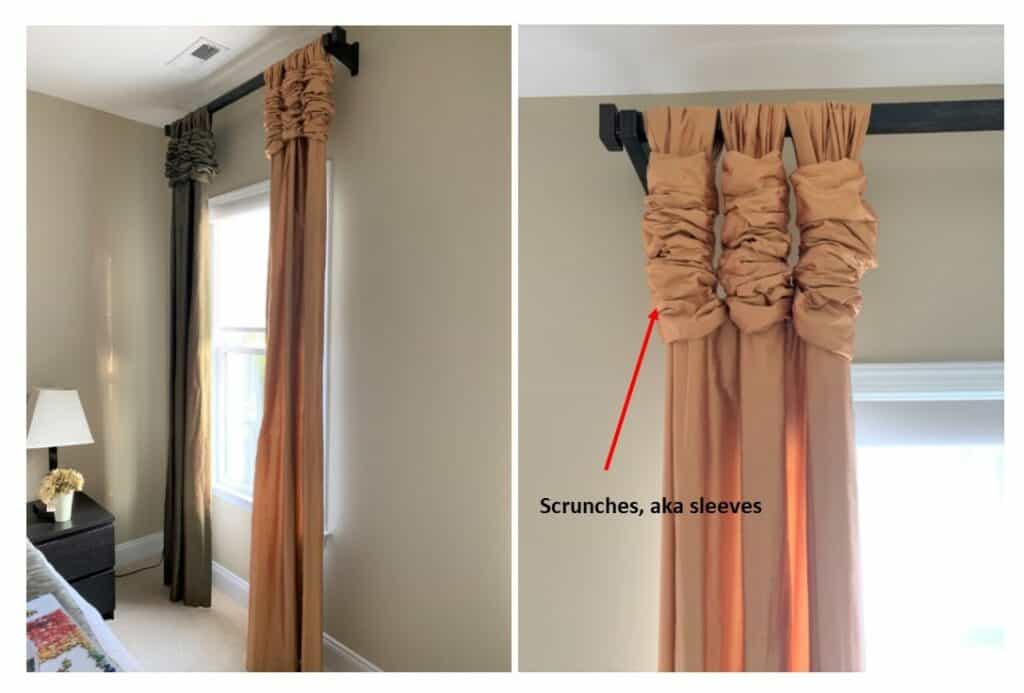 Here is the new mock up in Dream Draper, a software I use to make window treatments sketches for my projects.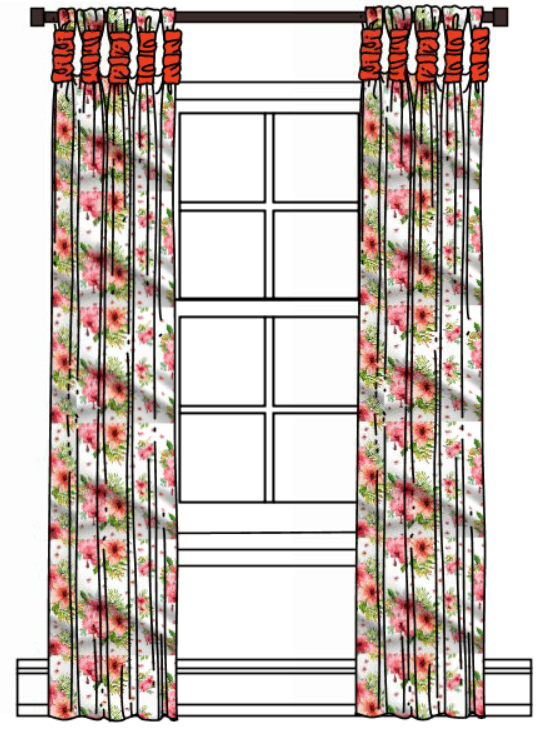 All fabrics were sent to Virginia Quilting, a workroom I have using for many years. Here is my post about my tour of their facility.
Color with no Color: Selecting A White

Next quick challenge was picking a white for three walls. And I say "challenge" because the wallpaper is red and you would think that a perfect pairing would be a warm white. However, the main body of Hibiscus Waterfall is a cold white. Using my own Sherwin Williams collection of white swatches, I paired Hibiscus Waterfall with 6252 Ice Cube - a white with a hint of blue in it. It won't be a conventional pairing but I am willing to risk it!
The walls, the new crown molding and my to-die-for ceiling medallion were painted by the CertaPro crew. What would take me a couple of days, took Fernando less than a day and he did an excellent job! I was relieved that I didn't have to do it myself – there are still items I need to get my hands on, and time is ticking!

Come Back Every Thursday!
Come back next Thursday to check on our progress: adding hardware to the nightstands, ideas on art and lamps – you don't want to miss next week's post!
Overall, it has been a fun journey so far. There is a small hiccup with one of the items I ordered. I will be working on it this week and will be sharing the outcome next week. See you then!
Project check list:
Install Crown molding and ceiling medallion: done!
Paint walls: done!
Install accent wallpaper on bed wall: next week!
Redo window treatments: in the workroom.
Add hardware to nightstands: next week!
Create art pieces for above dresser: needs to be worked on.
Replace lamps: come back next week to see what I picked!
Add chandelier: installed!
Change bedding: still not even started =(
Add a shag rug: still need to find and order.
Procure/Design/Collaborate on the oil painting: in progress.
Week three is complete and I am half way through my One Room Challenge! Be sure to check out the Featured Participants every Wednesday, and the rest of the Guest Participants every Thursday for a lot more room makeover madness!
The One Room Challenge: Color with no Color – Week 3