Hello everyone and welcome back!
This week I am reviewing the progress we made in our guest bedroom, plus sharing a little about budgeting and planning for interior design projects.
Making a Space More Dimensional: Wallpaper, Crown Molding and Ceiling Medallions
Here is the bare space we have to dress up - a plain space with no character. By adding three elements to the space, we will begin elevating its look.

First to go up was the crown molding. We had cove molding installed in some areas of the house when it was initially built, and other crown molding was added when we finished the basement. Since the basement is on a different level and is a space of its own, I specified a different crown molding: two flat MDF boards stacked together, attached to the ceiling rather than to the wall.
I like cove molding, especially on a large scale. Large scale would not work in a room this size, so I needed to find another style to complement what we have in other rooms, but to not necessarily match it. When I was browsing for crown molding ideas, I came across Orac Décor, a Belgian company specializing in decorative elements in advanced polymers. While there are many styles to choose from, I narrowed it down to a simple multilevel one. I wish I had the budget to do a floating installation with LED strip lights behind it. Maybe that could be done in the next room I update.

Orac Décor moldings are made of polymer, are lightweight, flexible, and easy to install. They are glued to the ceiling and the wall, and they already have a coating that serves as a primer so they are paintable.
After getting estimates from crown molding installation contractors, I realized we would be over the budget if we sub-contracted this task. So here we are, installing the crown moldings ourselves.

Once the walls are painted, we will move on to wallpaper installation. Look for more about colors, textures and other design elements next week.
Light fixture and the medallion: "It won't work!"
While I naturally gravitate to a clean look with a minimal number of elements, I decided to just take a peek at ceiling medallions – is there one that looks contemporary? They are making a strong comeback these days. Of course, my first selection from HDP Moldings was a simple design.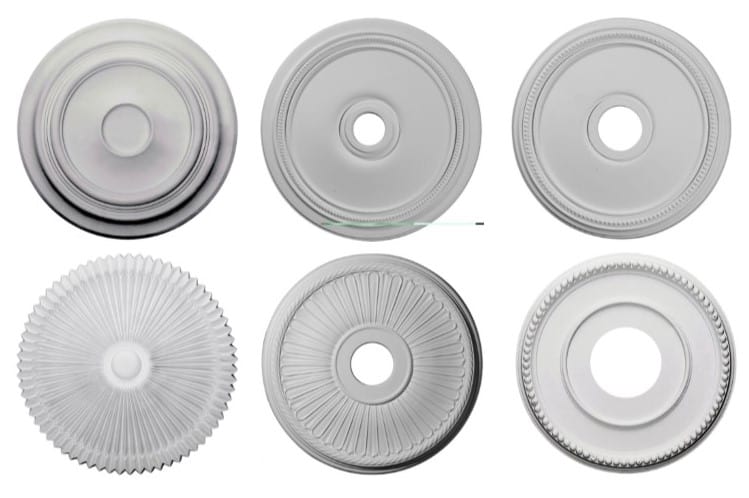 And then, I saw this one and there was no turning back from the idea of having a ceiling medallion in this project. It is elaborate but the lines are somewhat straight, so it worked for me. I immediately knew that the light fixture has to be very simple. So, here is the winning pair!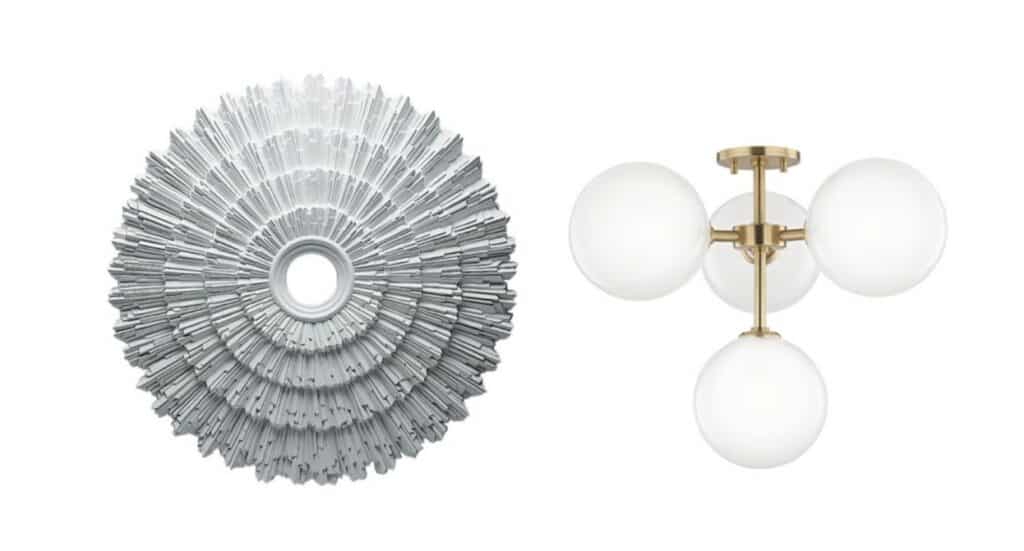 There were minor issues we had to deal with while fitting the medallion and the light fixture. First was that the ceiling was not perfectly smooth, so we had to shave off the back of the medallion around the opening. Second problem was the size of the opening in the medallion. It is an inch smaller than the canopy of this light fixture. That meant that we would not be able to fit the canopy in that size using the hardware included with the light fixture. However, with a little bit of creativity and two longer screws, the installation went well. I took a risk and it paid off! I love how it looks together!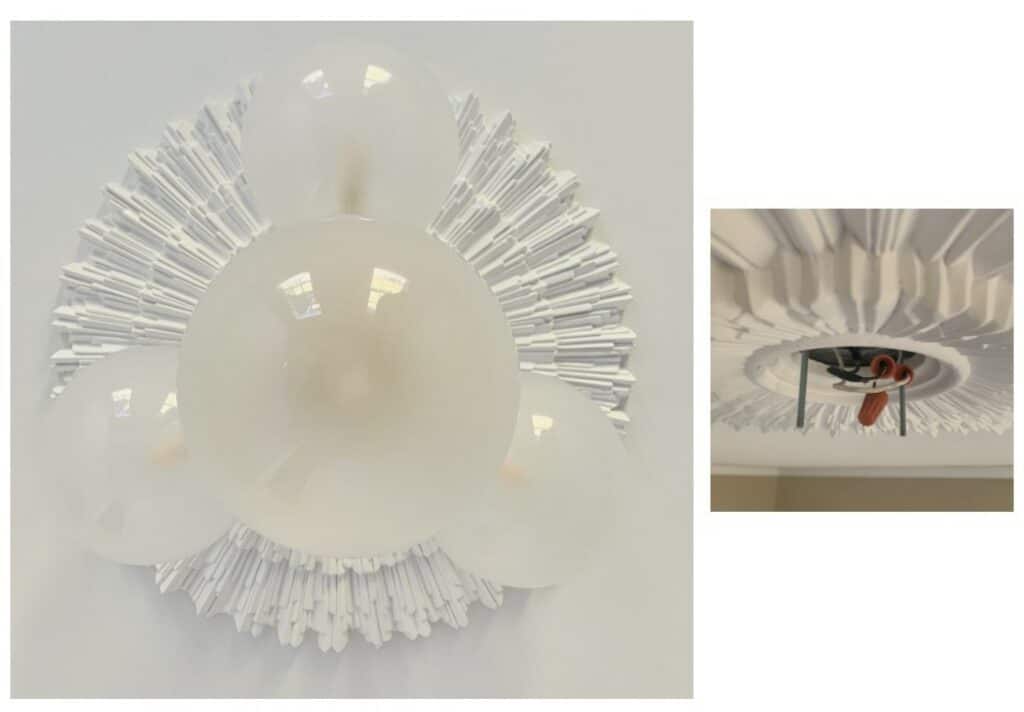 Budgeting and Planning
Last week I mentioned "scope creep" so let's talk about budgeting, planning and scope creep in home projects. The phrase is used in interior design when one additional thing leads to another and unexpectedly the project expands to the point when the budget is out of control.
I am truly walking into my clients' shoes with this project. As I said in my first post last week, I haven't approached my own home projects the way I manage my clients' projects. The initial work on a typical project consists of two inputs: esthetics/function and budget. So here I am, wearing my customer's "hat", standing in the doorway of the guest bedroom and thinking to myself: I can do the updates for X amount of dollars. I then put on my designer "hat," broke down the room line-by-line and did an estimation. Suddenly, the budget was looking more like 1.5X from my original anticipated amount.
This happens quite often in real word. Potential clients will provide their wish list and the amount they want to spend. Once we go in detail over the whole project, adding allowances for labor, shipping and design fees, in most cases the final budget ends up being higher.
It is always a good idea to add a contingency allowance to cover unexpected scope creep. In the case above, we had to spend extra time figuring out how to fit the medallion and the light fixture and we had to get extra parts. It was a minor detail this time.  However, in projects one misstep often leads to another and then another. For instance, a warehouse may ship a wrong item.  Or you have decided to add an element that was not in the original plan. To accommodate these changes, it may require more money, and typically it will add more time to the schedule. Not only is your budget affected, but also your timeline.
Bottom line: It pays to plan and budget your project first, including contingency, and only then dive into it.
Come Back Every Thursday!
Come back next Thursday to check on our progress – what colors and fabrics we will be using? Which shade of white will work best in my project and why? And more…
Project check list:
Install Crown molding and ceiling medallion: done!
Paint walls: coming up.
Install accent wallpaper on bed wall: wallpaper ordered. Come back next week to see what I picked.
Redo window treatments: textiles ordered and workroom order placed. Come back next week to see what I picked.
Add hardware to nightstands: needs to be done.
Create art pieces for above dresser: needs to be worked on.
Replace lamps: ordered.
Add chandelier: installed!
Change bedding: not even started.
Add a shag rug: need to find and order.
Procure/Design/Collaborate on the oil painting: in progress.
Week two is complete....now I have more to do for my One Room Challenge! Be sure to check out the Featured Participants every Wednesday , and the rest of the Guest Participants every Thursday for a lot more room makeover madness!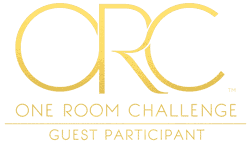 Did you miss week 1? Here is the link to that post!
The One Room Challenge: Adding a Bit of Character – Week 2