Hello, and welcome to the final week of the One Room Challenge!
Small but mighty guest bedroom
They say, "A picture is worth a thousand words," and it's so very true. I am very happy how the room turned out! Couple of thanks before I share the final results of this beautiful room…
Thank you, One Room Challenge and Better Home and Gardens , for this great opportunity to not only encourage participating designers to complete their projects on time, but also to showcase our work and process in a structured, easy-to-understand way. I also want to thank my dear husband Rafael for being my greatest supporter, handyman, personal shopper and electrician!
The challenge for me was to juggle all my usual work flow, my volunteer role at the Alliance of Interior Designers , and family schedule. However, the biggest challenge was to go public with this project. Many things could have gone wrong but we made it!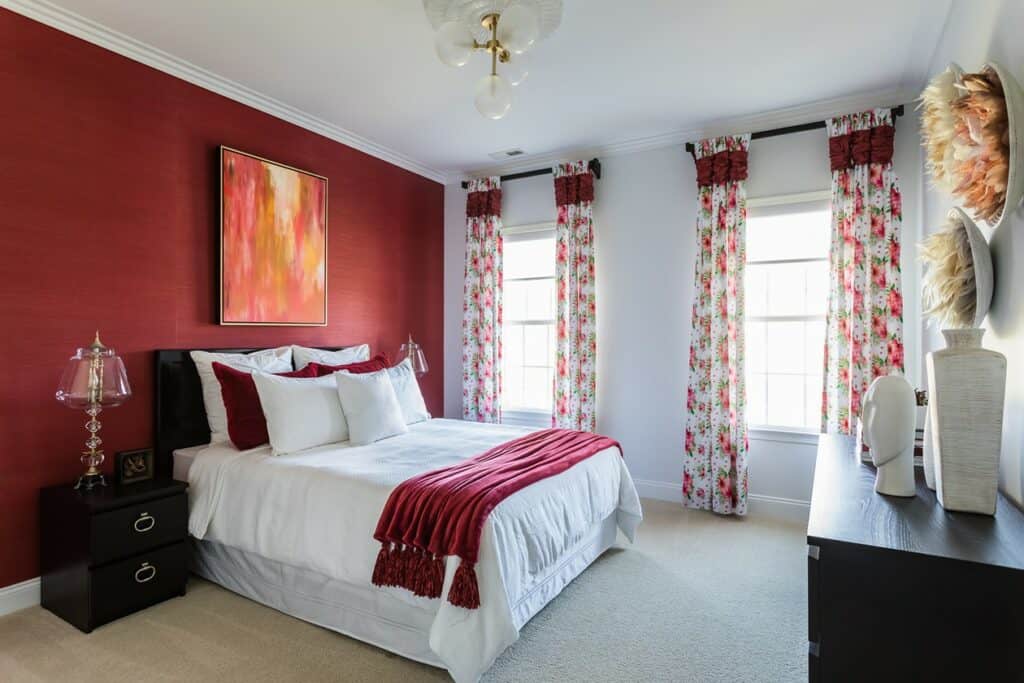 While red wallpaper and other accents in red set a stage for an energetic vibe, the abundance of white juxtaposes it.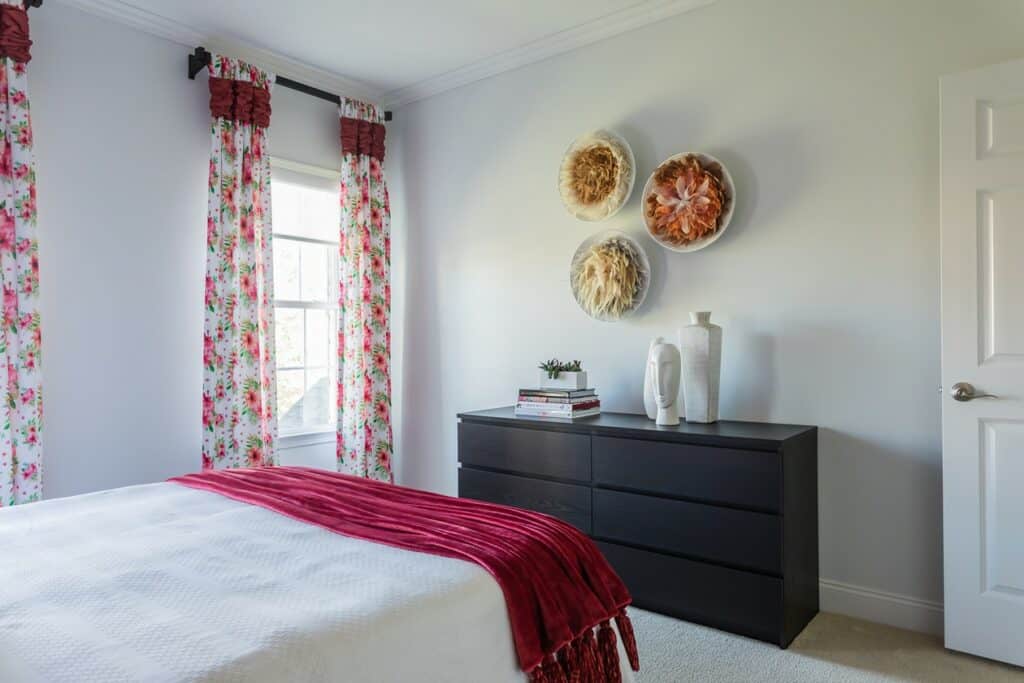 As you can see, I am not using the Bulbis lamp here on the dresser. When I had my wicker and feather pieces made and hung, the lamp and art didn't look good together. The lamp will have to find a new place elsewhere in the house.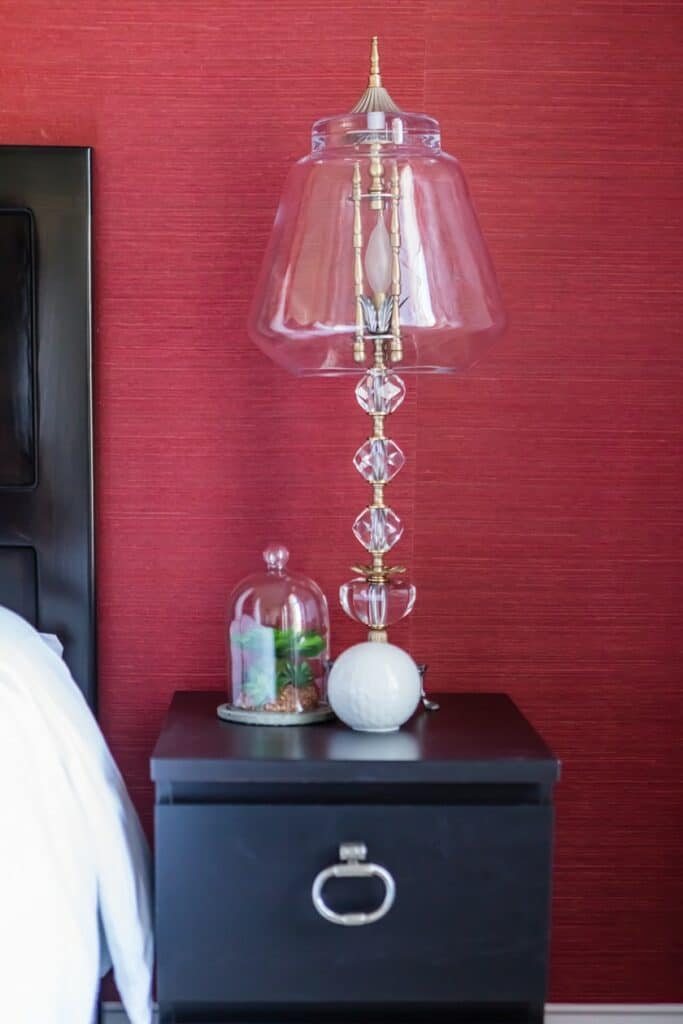 Luna Bella lamps are the jewelry of the room! What attracted me to them was a combination of materials, vintage vibe coupled with a simplicity of the glass shade, and the unique look of them.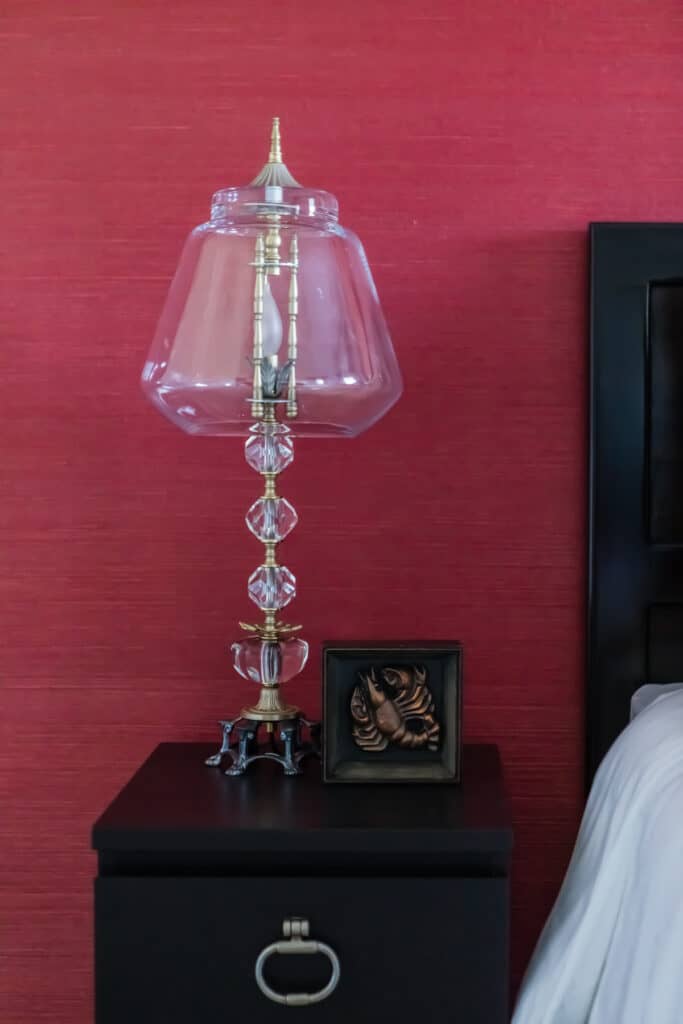 I brought back the "Cancer sign" piece since it has a great sentimental value. My mother, who is no longer with us, bought it for me when I was little (yes, back in the USSR!). My husband is also Cancer by the horoscope. So, having this item in the room dedicated to my mother-in-law is in a way connecting people who have never met.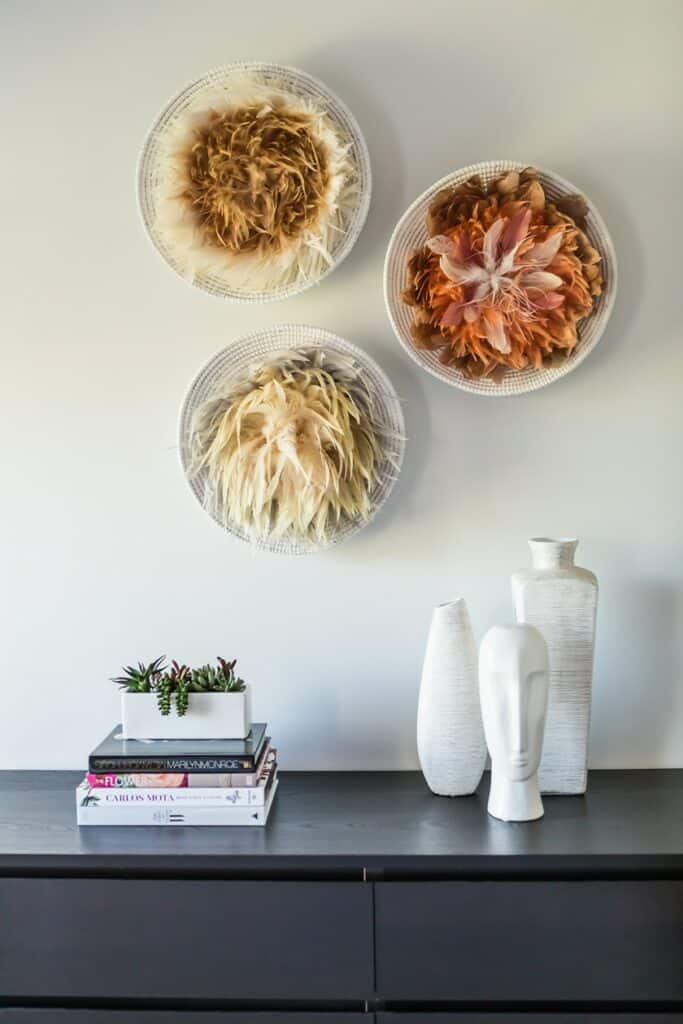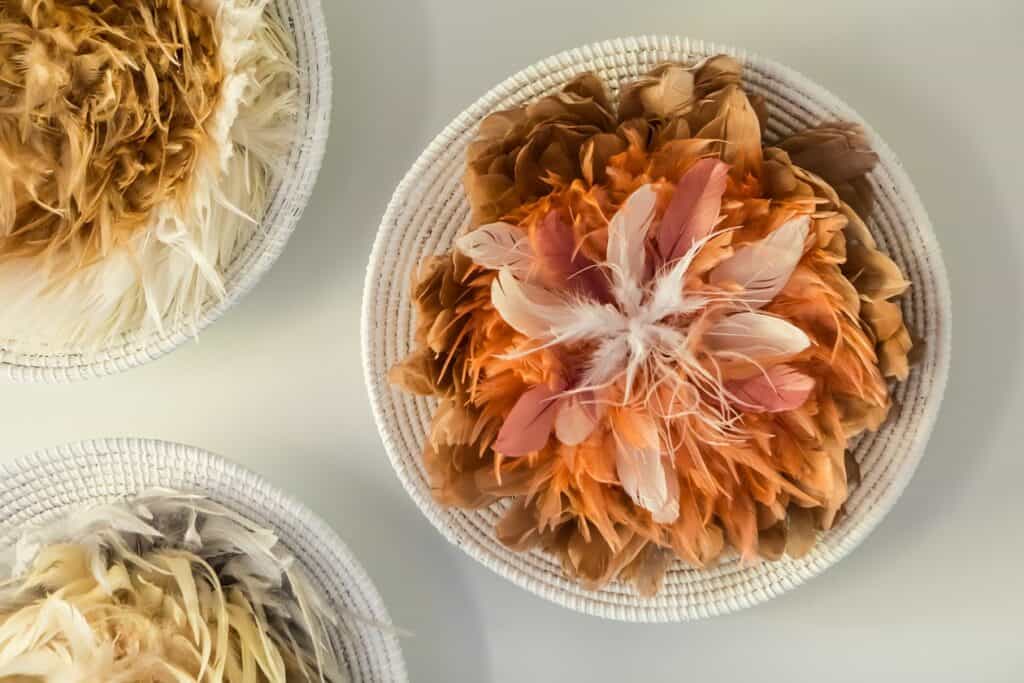 What do you think of the combination of the wicker and the feathers? Three basic wicker trays, some paint, feathers, hot glue gun and we have art that is unique! Please, don't ask me why but I do like the head sculpture a lot!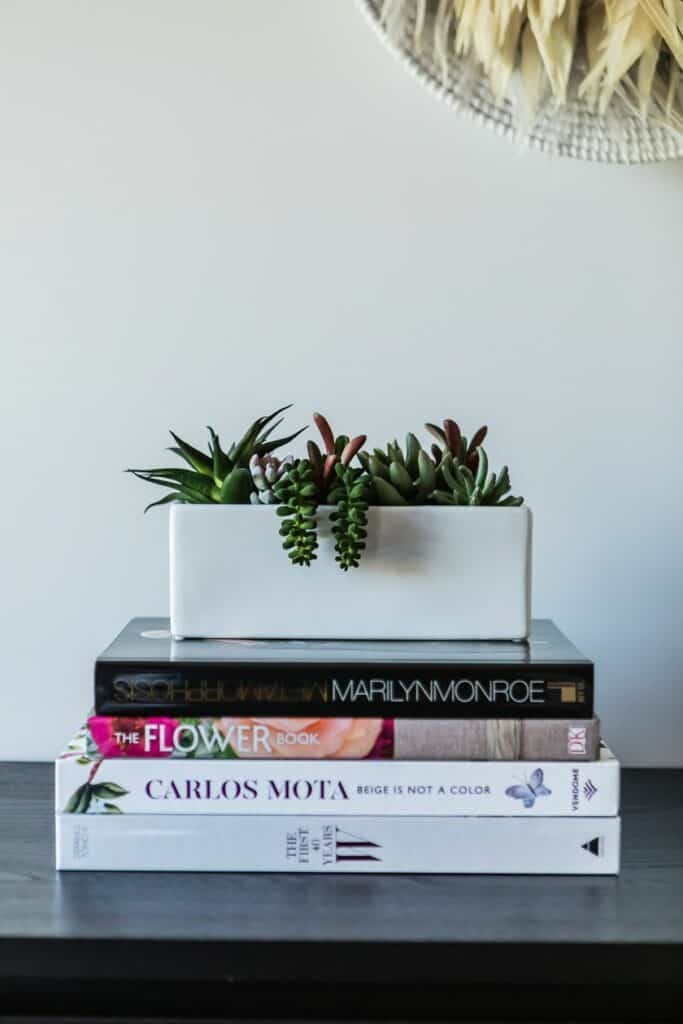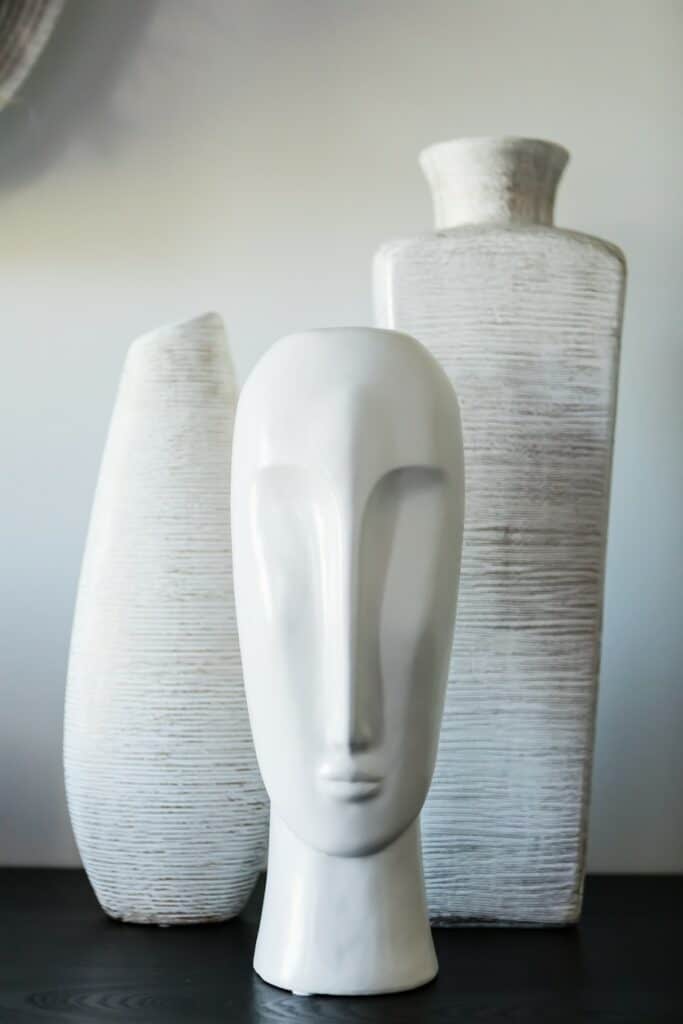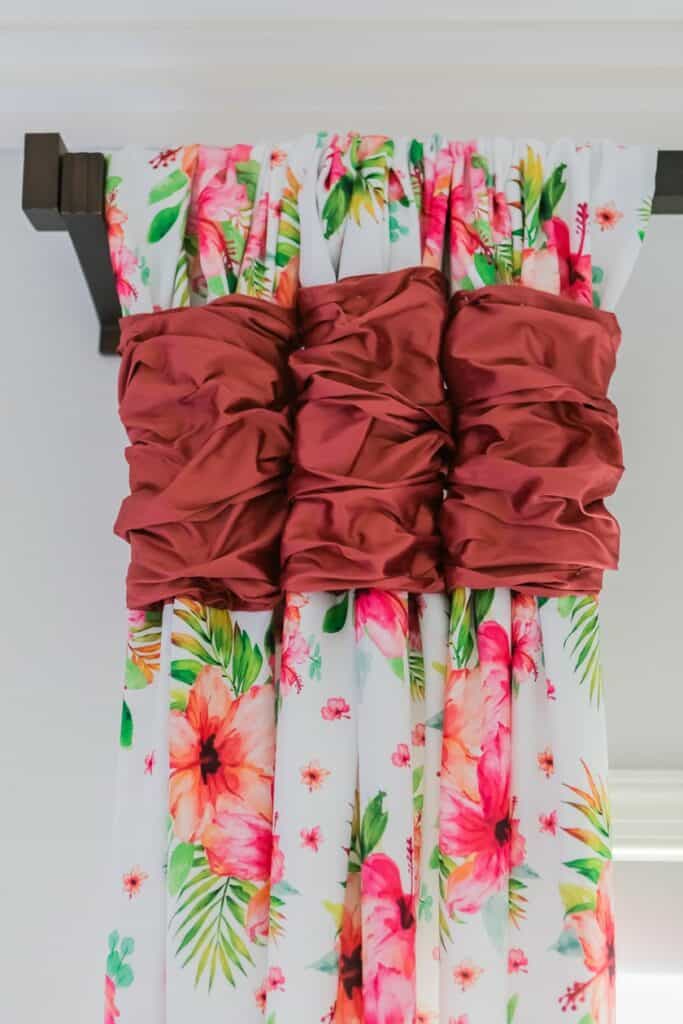 The hibiscus print fabric I ordered from Spoonflower looks colorful and bright. I like how silk fabric reflects the light and it looks dimensional. Big thanks to my workroom Virginia Quilting for finishing my panels on time! Always a pleasure to work with a professional workroom and to deliver perfect products for my clients.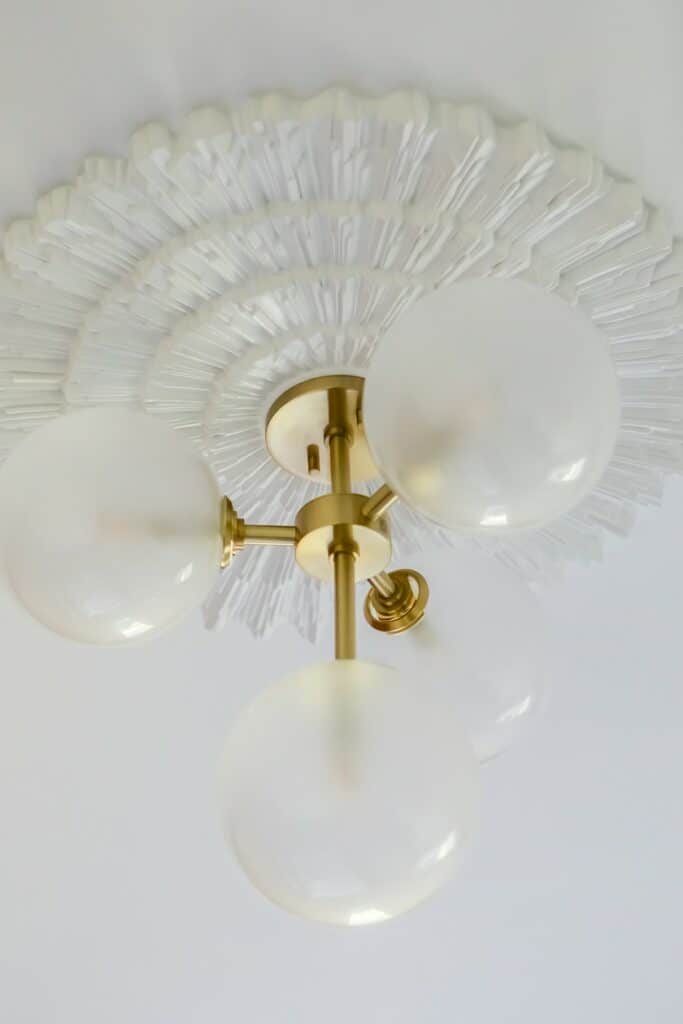 Here is another jewel of the room – a contemporary chandelier paired with an art deco inspired ceiling medallion. They look as if they were designed for each other. It is a great example of combining design elements that seem so distant but when placed together, they create an unexpected, cool look.
One final look at the room…the art I painted works perfectly in the space, showcasing all the colors in the textiles. White bedding looks crisp and fresh. I opted for a little bit of texture and a subtle stripe pattern in bedding and pillows to let the pattern on the draperies be the star of the space.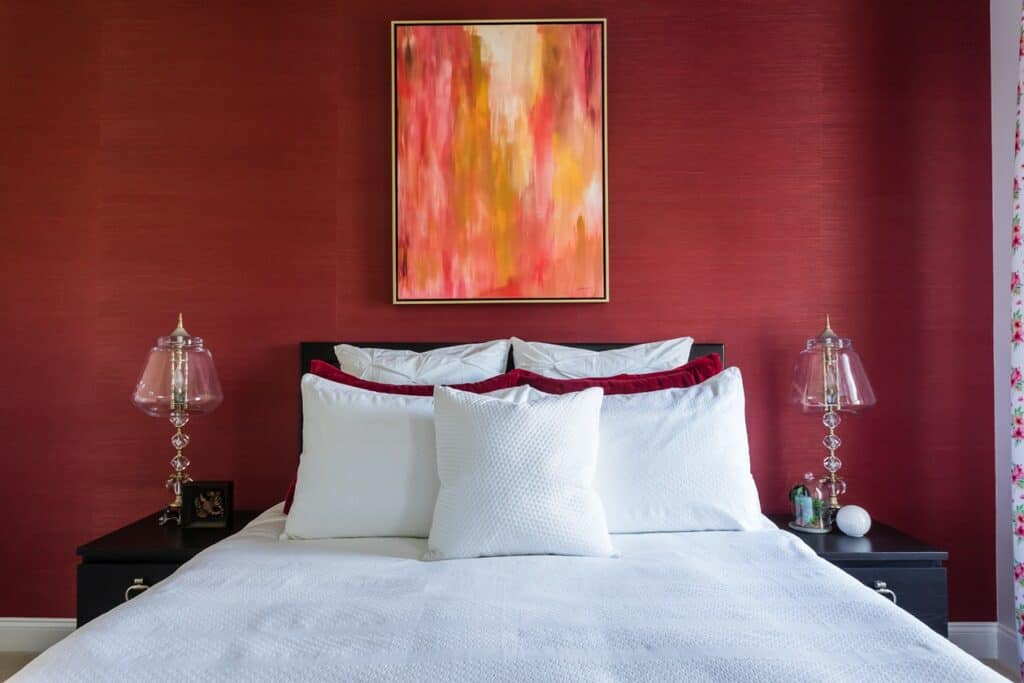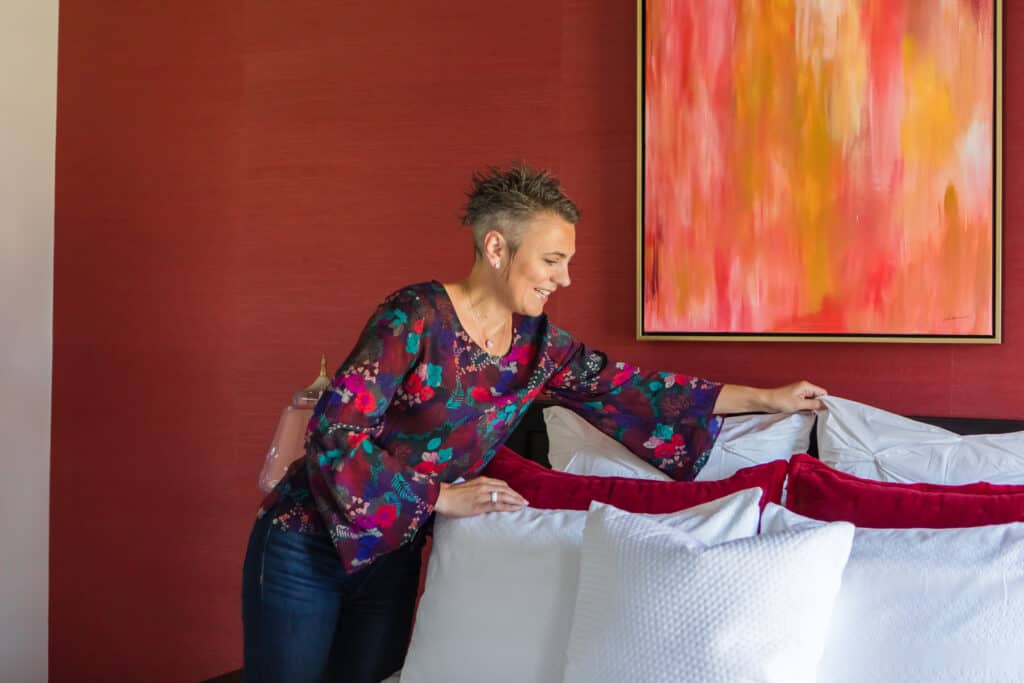 Thank you for following me on this journey. I appreciate the support I received from all of you. I hope that this project will inspire you to get started on your own project. And if you find you need a designer to help you, I am only a phone call away! We will create something unique for you. With color!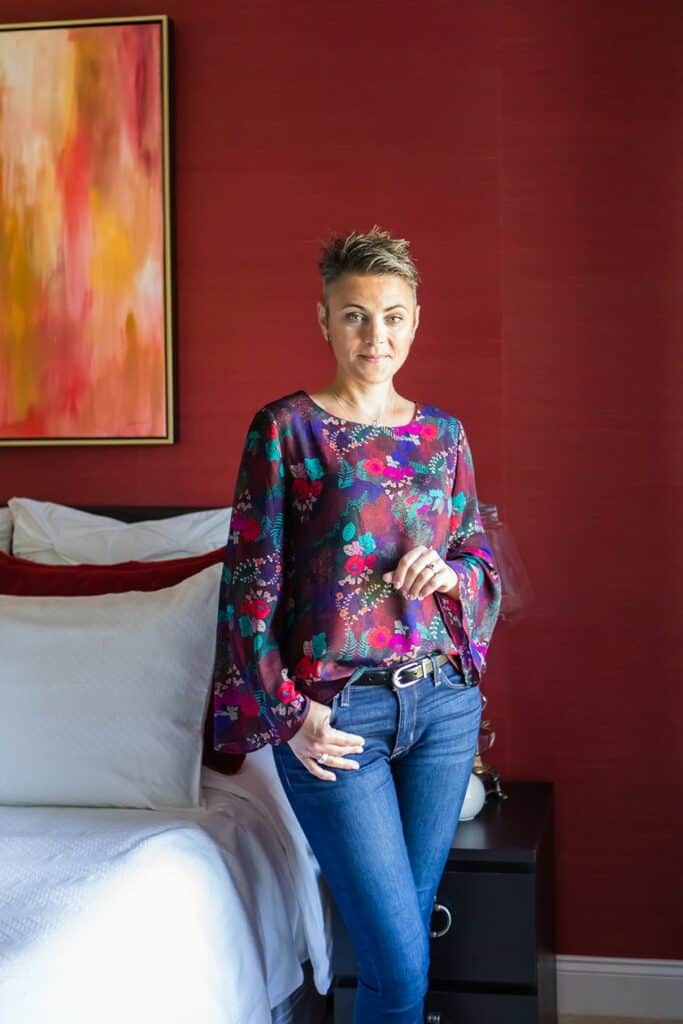 Photography by Catherine Nguyen.
Be sure to check out the fabulous work of FeaturedParticipants every Wednesday, and the rest of the Guest Participants – there is a lot of inspiration for you and your projects!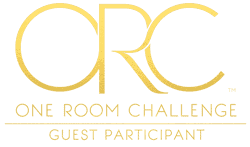 Did you miss a week? Week 1, Week 2, Week 3, Week 4, Week 5
The One Room Challenge: Guest Bedroom Reveal