The News & Observer, June 18th, 2016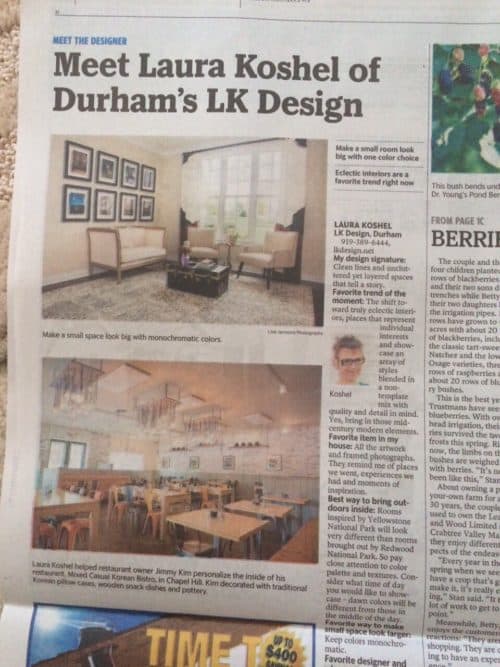 My design signature:
Clean lines and uncluttered yet layered spaces that tell a story.
Favorite trend of the moment: The shift toward truly eclectic interiors, places that represent individual interests and showcase an array of styles blended in a non-template mix with quality and detail in mind. Yes, bring in those midcentury modern elements.
Favorite item in my house: All the artwork and framed photographs. They remind me of places we went, experiences we had and moments of inspiration.
Best way to bring outdoors inside: Rooms inspired by Yellowstone National Park will look very different than rooms brought out by Redwood National Park. So pay close attention to color palette and textures. Consider what time of day you would like to showcase – dawn colors will be different from those in the middle of the day.
Favorite way to make small space look larger: Keep colors monochromatic.
Favorite designer and why: Vicente Wolf. He uses white on almost all walls but bedrooms and dining rooms and fills rooms with an eclectic blend of furnishings. None of his work looks boring or lacks color. The serenity of interiors that Wolf creates resonates well with me since life is busy and hectic these days; a Wolf-styled home can become a true escape.
Go-to wall color: I do not have one because natural light changes color; a color could be perfect in one space but would not work in another space. Although my favorite color of late is Anonymous by Sherwin-Williams. Some say it is gray but I see brown and green, and then gray. It is rich, bold and neutral enough to create a variety of looks.

Best way to personalize a space: Take time to educate yourself on styles. Be on the lookout for details, texture and color combinations everywhere you go and memorize what resonates with you. Also, think of what you are passionate about and what makes you feel good and happy, and find a way to bring it into your space.
What never goes out of style: Good taste.
Next project at your house: We are about done with finishing our basement; furnishing it is next. It is part man-cave, part home theater and part office with light playing a factor in all rooms and selections. It will be a fun challenge.

The monthly Meet The Designer column is a collaboration with the Alliance of Interior Designers. Info: allianceofinteriordesigners.org.
Meet Laura Koshel of Durham's LK Design