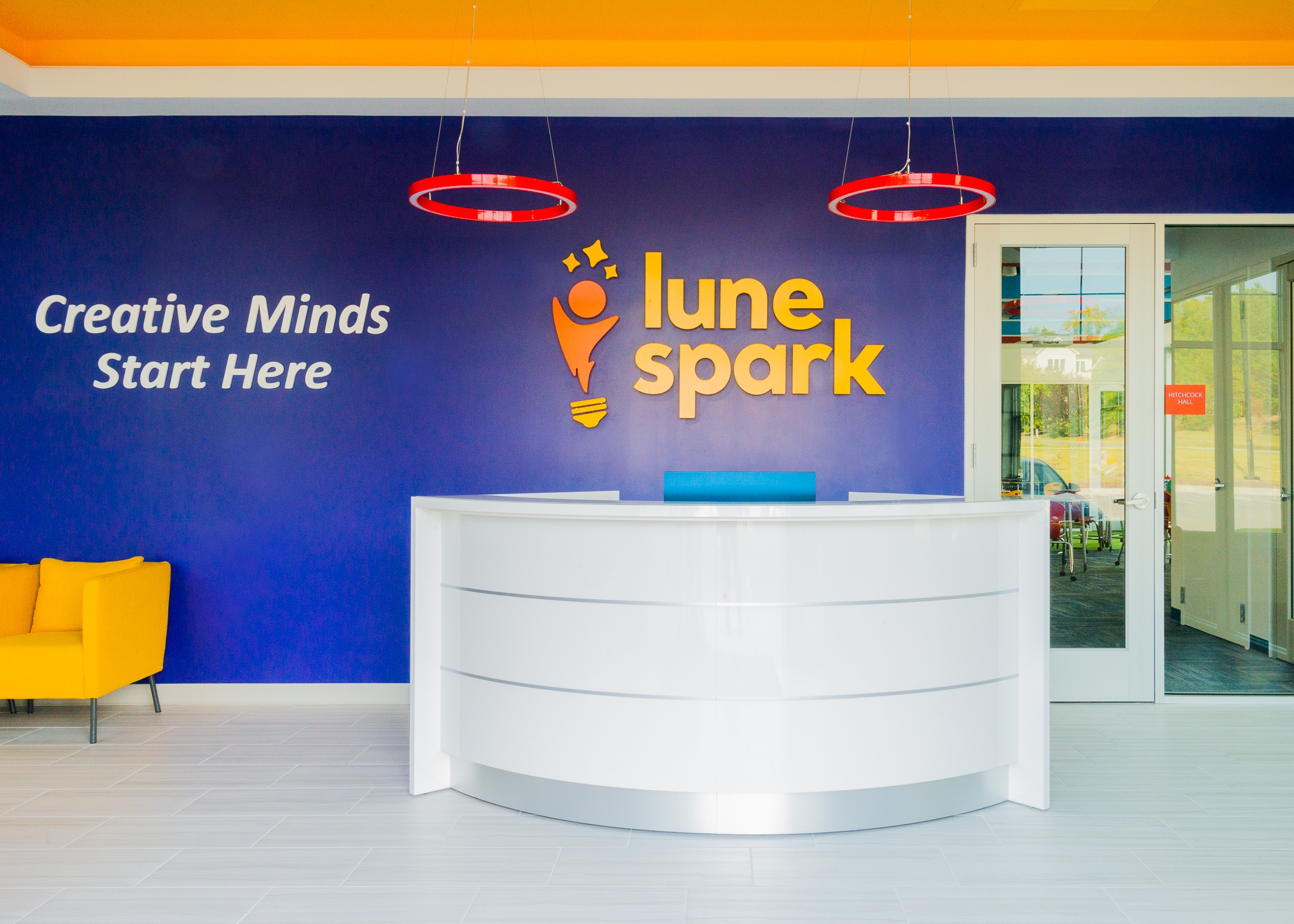 Designing from scratch is an immensely rewarding experience, and the Lune Spark Center for Creativity perfectly embodies this journey. Working alongside FGA Associates Architecture Firm and Aspire Construction, I had the great pleasure of participating in building this center from the ground up. As a hub of fun and creativity, this center provides a vibrant space for children to develop their imaginative skills.
The lobby of Lune Spark is a colorful and welcoming sight for students, even on the cloudiest of days. Bright yellow chairs exude sunshine, while pops of red, blue, and yellow add vibrancy and energy to the space. TV screens mounted vertically and white cubby storage shelves holding merchandise make for a neat and functional area. Movable track lights further add to the cheery and comfortable waiting area for pick-ups.
The spark of curiosity inspired the creation of the beautiful mural, capturing the essence of wonder and discovery. Bright colors celebrate energy and movement, the human spirit, and the insatiable hunger for knowledge that drives us to explore, discover and create. The mural serves as a reminder that even the smallest spark can light the way to great discoveries and adventures. The worktables, along with the colorful chairs, match the overall color scheme and are anything but boring.
The professional recording studio boasts a bright yellow isolation booth, while the kitchen is adorned with red cabinets.
The overall effect of the center is a cheerful, comfortable, and engaging space that encourages and nurtures creativity in young minds. 
Photos: Alexandra Lane Photography for Lune Spark