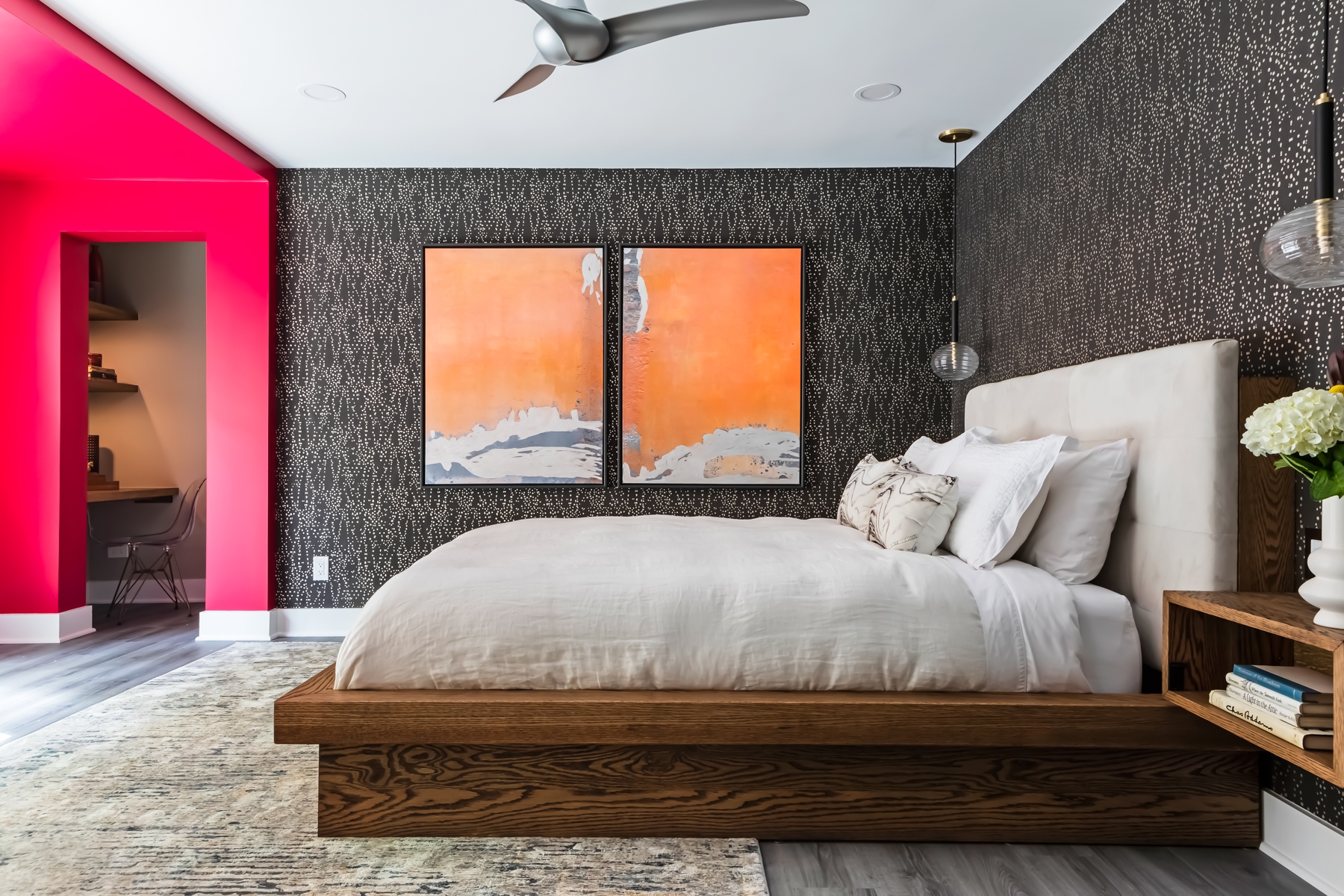 We took inspiration for this bedroom from various hotels that our clients enjoyed staying at. Our goal was to create a bold design, and we achieved just that!
To bring our vision to life, we collaborated with Nate Sprankle of Sprankle Custom Works and a local upholstery shop to create a custom-designed platform bed. The bed features a removable upholstered back for easy access to electrical components, as well as a hidden built-in LED light strip that creates a cozy aesthetic at night. Pass-through holes were also integrated for cables to charge phones. Two floating open shelves flank the bed and double as nightstands. To save surface space and add visual interest, we installed pendants with glass shades that create another layer of pattern on the walls.
To create a moody background and make the abstract art stand out, we chose a "starry sky" wallpaper. The art reminded us of the landscape on Mars! In addition, we added an accent wall painted in a bold red color called Radish for an extra architectural detail.
We converted a small closet into a "cloffice," which provides a secluded space for focused work. On the other side of the room, we placed a modern recliner in a luxurious teal color to create a spot to sit back, relax, and enjoy the view from the block of windows and doors overlooking nature. To add an artistic touch, we installed six wall sconces to create a sculpture on the wall behind the chair.
To keep out the morning light, a pair of motorized custom window treatments was added.
This bedroom truly stops you in your tracks, doesn't it?
Photos: Catherine Nguyen Photography